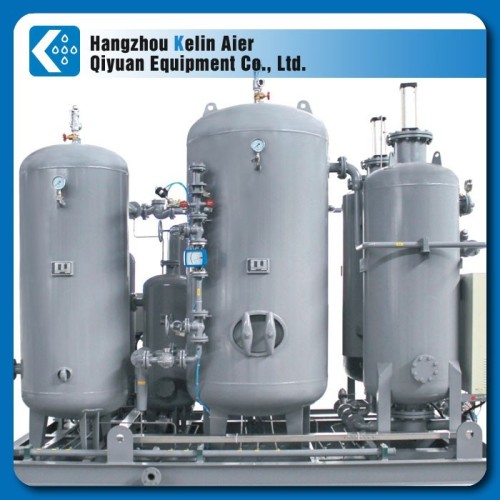 Good quality china manufactuer on-site nitrogen plant
Item specifics
Condition

New
Usage

Oxygen
Production Rate

90%
Voltage

380V/220V,AC
Power(W)

based on model
Weight

based on model
Dimension(L*W*H)

based on model
Certification

GB, ISO, ASME
Warranty

12 months
After-sales Service Provided

Engineers available to service machinery overseas
Description
Welcome to>>Hangzhou Kelin Aier Qiyuan Equipment Co., Ltd.
Good quality on-site nitrogen plant Comprehensive presentation
Features:
Support: Very easy to install, operate and require very little maintenance and service. Specialist support from planning, installation and operation of your project.
Convenience: Easy to install and maintain with an unlimited supply of nitrogen. The generator's PLC operates the generator automatically, starting and stopping the nitrogen production in direct response to demand in the down stream distribution system. Only produce the gas you need, when and where you need in exact quantity and
quality needed.
Flexibility: Unmatched System Lay-Out Flexibility. No matter your need or application we can provide state of
art design to meet your requirements.
Fully Automatic & Remote control: Fully automated generator;Unattended Operation; Remote Control Access; Productionbegins when demand downstream is sensed. The system will go into standby mode when oxygen is
not required.
Reliability: We will produce the required nitrogen 24x7x365 days for years when called for. High reliability through fewer moving parts and high quality components. You will get controlled flow and uninterrupted gas.
Flow Chart:
1.Air compressor one set
2.Compressed air pretreatment system (dryer and multistage filters) one set
3.Air buffer tank one set
4.PSA nitrogen generator one set
5.Nitrogen gas buffer tank one set
6.Nitrogen booster one set
7.Filling station one set
8.Control system one set (including man-machine control interface)
9.Instrument and meter (installed in nitrogen generator) one set


Good quality china manufactuer on-site nitrogen plant Specifications
PSA nitrogen making machine purity 99% detail table :
| | | | | | | |
| --- | --- | --- | --- | --- | --- | --- |
| Model | capacity(Nm3/h) | Air consumption(Nm3/min) | inlet connection(DN)mm | outlet connection(DN)mm | Buffer tank | Dimension(L*W)mm |
| KPN29-10 | 10 | 0.5 | 15 | 15 | CG-0.3 | 1430*800 |
| KPN29-20 | 20 | 1 | 25 | 15 | CG-0.5 | 1650*850 |
| KPN29-30 | 30 | 1.5 | 25 | 15 | CG-0.5 | 1750*900 |
| KPN29-40 | 40 | 2 | 25 | 25 | CG-0.5 | 1900*1050 |
| KPN29-50 | 50 | 2.5 | 32 | 25 | CG-0.5 | 2150*1100 |
| KPN29-60 | 60 | 3 | 32 | 25 | CG-0.6 | 2200*1160 |
| KPN29-80 | 80 | 4 | 40 | 25 | CG-1 | 2350*1300 |
| KPN29-100 | 100 | 5 | 40 | 25 | CG-1 | 2600*1350 |
| KPN29-150 | 150 | 7.5 | 50 | 32 | CG-1.5 | 3200*1850 |
| KPN29-200 | 200 | 10 | 50 | 32 | CG-2 | 3360*2100 |
| KPN29-300 | 300 | 15 | 65 | 40 | CG-3 | 3600*2250 |
| KPN29-400 | 400 | 20 | 65 | 40 | CG-3 | 3750*2350 |
| KPN29-500 | 500 | 25 | 80 | 50 | CG-5 | 4100*2380 |
| KPN29-600 | 600 | 30 | 80 | 50 | CG-6 | 4250*2450 |
| KPN29-800 | 800 | 40 | 100 | 65 | CG-6 | 4650*2550 |
| KPN29-1000 | 1000 | 50 | 100 | 65 | CG-10 | 4950*2750 |
| KPN29-1500 | 1500 | 75 | 1250 | 80 | CG-12 | 4900*4500 |
| KPN29-2000 | 2000 | 100 | 150 | 100 | CG-15 | 5300*5200 |
| KPN29-3000 | 3000 | 150 | 200 | 100 | CG-25 | 8000*7000 |